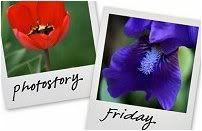 Hosted by Cecily and MamaGeek
A few weeks ago Bug and I went to visit my dad. After loving on the brand new baby goats, mydad, Bug and I went over to watch my dad's friend Marjorie work.
She creates marbled fabric and sells it to other crafts people. They in turn make beautiful things from the fabric. The process of making this fabric is long and I won't go into specifics because, well I don't remember all of the technicalities!
What I do know is that is was fascinating to watch. Bug who has a short attention span watched for about two hours in a cold cramped studio as Marjorie worked her magic.
Bug was entranced....
Marjorie put row after row of dye onto the special slimy liquid.
Then she used a "comb" to smooth out the lines.
Then she used a "rake" in the opposite direction.
Once the pattern is the way she wants it she lays the fabric into the solution.
When the fabric is lifted the die is adhered to it.
She makes multiple patterns and stores every on in her head.
It's was so fun and very inspiring to watch an artist at work. It reminds me that I need to find my bliss!